Live Weather Link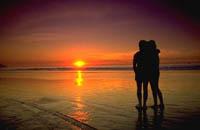 | | | |
| --- | --- | --- |
| | | |
| | Sanibel and Captiva islands are located on the west coast of Florida in the Gulf of Mexico, 15 minutes southwest of Fort Myers. Located 120 miles south of Tampa, arriving by car or plane is a snap. Southwest International Airport is only a pleasant 30 minute car ride to the islands. A three mile long causeway, with a $6 toll, links these jewels to the mainland. Sanibel is approximately 11 miles long and 2 miles wide at its widest part. Shaped like a banana, Sanibel lies east to west at the southern end and curves to the north. | |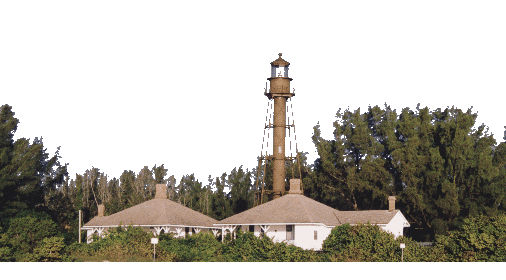 Sanibel incorporated in 1974 in order to control its' own destiny and protect this fragile gem from large developers. This is reflected from the moment you set foot on Sanibel. No stop lights. No neon signs. Very tightly controlled building regulations. No buildings over 3 stories high. Far from a concrete jungle, Sanibel is more like a jungle paradise. The average temperature here is a pleasant 74 degrees. Sanibel has over 15 miles of beach frontage and 5 public access. Most accommodations have their own access. There are two public golf courses, 18 holes each, public tennis courts, boat launches, marinas, 75-80 restaurants, beautiful shopping centers and shops, two playhouses, art galleries, a movie theater, world class fishing and shelling . Plenty to do, if you want to. It is also the ideal location to do absolutely nothing! Read a book at the beach, or just chill out at the pool. A perfect family destination awaits you. Gently sloping beaches, shallow water, little or no surf (no dangerous undertow).

About 60% of the island is set aside for wildlife sanctuaries. 50% of that is comprised of the J.N. "Ding" Darling National wildlife refuge. Named for Darling, a political cartoonist in the '20's ,who was ahead of his time as a conservationist. Darling used to visit Sanibel, and using his political clout, convinced the powers to be that this area needed to be set aside for future generations. A five mile drive through the sanctuary is a must, with spectacular close up viewing of all kinds of birds including osprey, roseate spoonbills, egrets, herons, ibis woodstorks to name a few. Alligators, otters, raccoons, and even a bobcat if you get real lucky.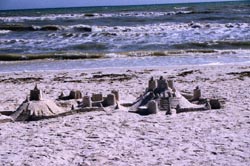 | | | |
| --- | --- | --- |
| | | |
| | Captiva Island is connected to Sanibel by a bridge at Blind Pass. Six miles long and 1/3 mile wide, Captiva slices between the Gulf and the bay from north to south. The southernmost 1/3 of the island is comprised of very secluded single family homes. The perfect blend of luxury and privacy. The middle 1/3 is a quaint mix single family homes, shops, condos, and resorts. Several fine dining establishments are also found there. The northern tip of the island is the South Seas Plantation, a full resort covering 330 acres. Several restaurants, a general store, great shopping, tennis, a 9 hole golf course, deep water marina, convention facilities, are but some of the amenities. Truly a world class resort. | |
The waters surrounding the islands offer some of the finest fishing found anywhere in the world. Tarpon, snook, trout, redfish, grouper, kingfish, cobia are to name but a few. From stalking tailing redfish in 2 feet of water, casting a fly into a school of 75 lb.. tarpon, to battling a monster snook away from the mangroves or trolling for that trophy kingfish, you can find it all here. Don't forget to bring your own tackle. There is plenty of great action right along the shoreline and beaches. There is a fishing pier at the east end of the island where there is always some kind of action to be had. A charter fishing trip with one of our professional guides can be the trip of a lifetime. Let me put you in touch with a captain who has a custom charter just for you.
Well known as one of the 3 best shelling destinations in the world, the beaches are an ever changing treasure trove for the experienced to the novice sheller. Sanddollars, whelks, olives, horse and fighting conch (pronounced konk), angel wings, and the grand prize, the junonia are but a few. To ensure these treasures are here for the next person to enjoy, no live shelling allowed. Its the law. A custom charter to the out islands for shelling and dolphin watching can be arranged. We can put you in touch with the right captain for that special trip.

Sanibel and Captiva over 20 miles of bike paths, perfect for jogging, rollerblading, walking and even biking. If you can't bring your own bike, there are several locations to rent everything from bikes to rollerblades to canoes. You name it. We have it all.
---
A Sanibel - Captiva Vacation Connection e-mail: info@sanibelrent.com Toll Free: (800)-870-8441 Local: (239)-415-3263 Fax: (239)-466-1390 16600 Arbor Ridge Dr. Fort Myers, FL., 33908